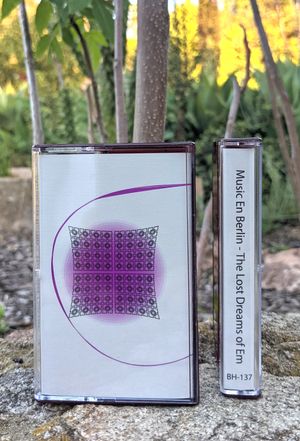 BH-137 - Music En Berlin - The Lost Dreams of Em
This is heavy ambient drone music that would appeal much to fans of Nadja, Earth, and Popol Vuh. Two color offset printing, black and purple on gray linen paper. Four panel j-card. Maroon tapes and cases, and silver labels. Edition of 100.

The release is essentially a compilation of unreleased material recorded by producer/engineer Noah Brodsky, who sadly passed away in 2020. The Lost Dreams of Em is dedicated to Noah. All music is performed by Nathan Berlinguette, but includes guests Travis Ryan, Ryan Unks, and Machinefabriek.
This release is part of a series that include new music by Common Eider King Eider, En Nihil, ASOMC, and SOOT, and includes artwork by James Livingston.
Available for purchase at http://www.black-horizons.com/bh137.html